With Covid-19 stubbornly hanging around in the US, many of us are still finding ourselves spending a lot of time at home. Extra time at home can be nice in many respects, but it can also get quite boring. And, outside of winning the lottery and buying a beachfront mansion, there isn't much we can do about it, right? Well, that isn't completely true. There are some changes you can make that will not only make your home feel refreshed but also alleviate some anxiety and that general feeling of being "stuck".
1. Take on a DIY Project
Is there a project you've been considering taking on but just haven't gotten around to? DIY projects can be both fun and incredibly rewarding. And no, we don't mean gutting a room or anything like that. But, if you have an old dresser that you've been meaning to paint or an old chair that could use a face lift, why not get started? Buying some paint, supplies, or some new drawer pulls is relatively cheap and will turn that old piece into something that looks brand new and, of course, unique. If you've been considering incorporating some new colors into your space, start by painting a smaller piece of furniture to see if those colors will work in your home. Plus, once you're finished, you'll get to enjoy the satisfaction of seeing (and showing off) the results of your hard work for years to come.
2. Get Some New Cozy Bedding
Nothing is worse than an uncomfortable bed. After all, we spend roughly 1/3 of our lives in bed. You don't have to go spend thousands of dollars on a new mattress to cozy up your bed either. Though these days, you've got dozens of options for relatively inexpensive mattresses that can be shipped to your house, unboxed, and voila! new bed.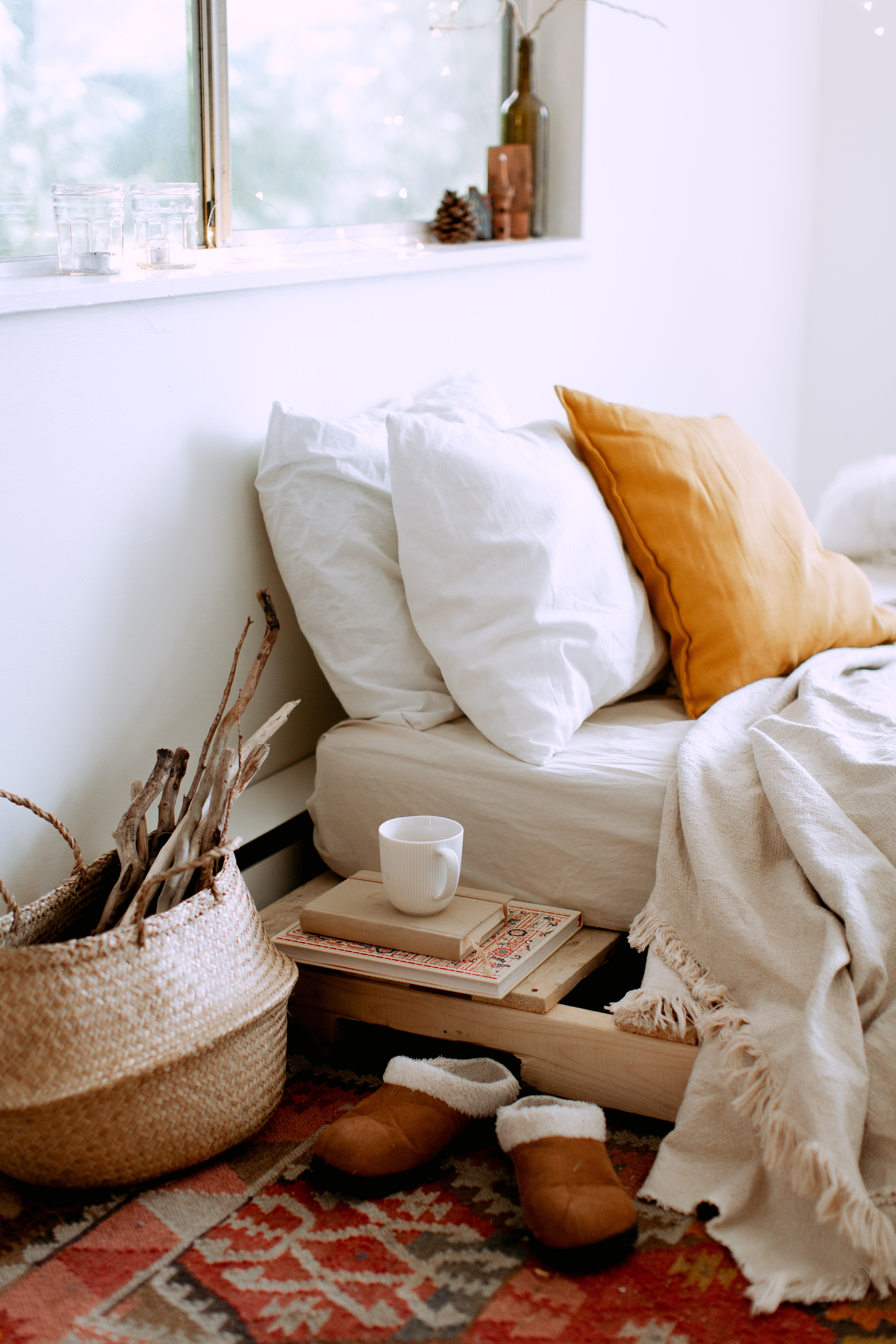 But, if you're not ready for a new mattress, start with some new pillows. Do some research on the best types of pillows for your sleeping position and be sure to read reviews. There are lots of places that you can get great pillows for relatively cheap these days. New sheets, comforters, or duvet covers are also great ways to change up your bed. Is your comforter too bulky or just not your style anymore? Maybe it's time to switch to a lighter-weight option like a quilt. Or, if you have a down or down alternative comforter, think about getting a new duvet. Most comforter and duvet sets come with matching pillow shams - put your old pillows in those and use those brand-new ones for sleeping.
Comfortable, soft sheets are an investment worth making. But the great thing is, you don't have to break the bank there either. There are so many options for sheets these days - if you're a hot sleeper, a cold sleeper, if you prefer cotton, synthetic fabrics - you name it, it's available. If you're a hot sleeper, search for cooling sheets - you'll find tons of options at just about every price point. Once you've gotten all your cozy new bed stuff, drifting into dreamland will be that much easier.
3. Rearrange Your Furniture
Are you just "over" how one of the rooms in your home looks? Time to rearrange some furniture. We know what you're thinking - "My house is way too small to rearrange furniture!" or "The windows are in weird places, there's no other way to set it up!". Well then, it's time to get creative! Even if you've endlessly pondered other ways to set up your living room or bedroom and keep coming up empty, it very well may be possible. Get out a measuring tape and measure your furniture and the area you'd like to move it to. You might be surprised that your bulky couch really will fit against a different wall. It will also help to get out some paper and sketch out a few different ideas to allow you to visualize some different options of how a new room might look. If nothing else, just play with it. You can always just put it back if it doesn't work. But if it does work, hello brand new room!
4. Create a Spa-Like Experience in Your Bathroom
What? Make my bathroom a spa-like experience? Not with these people living in my house! Yes, yes, we get it, but it is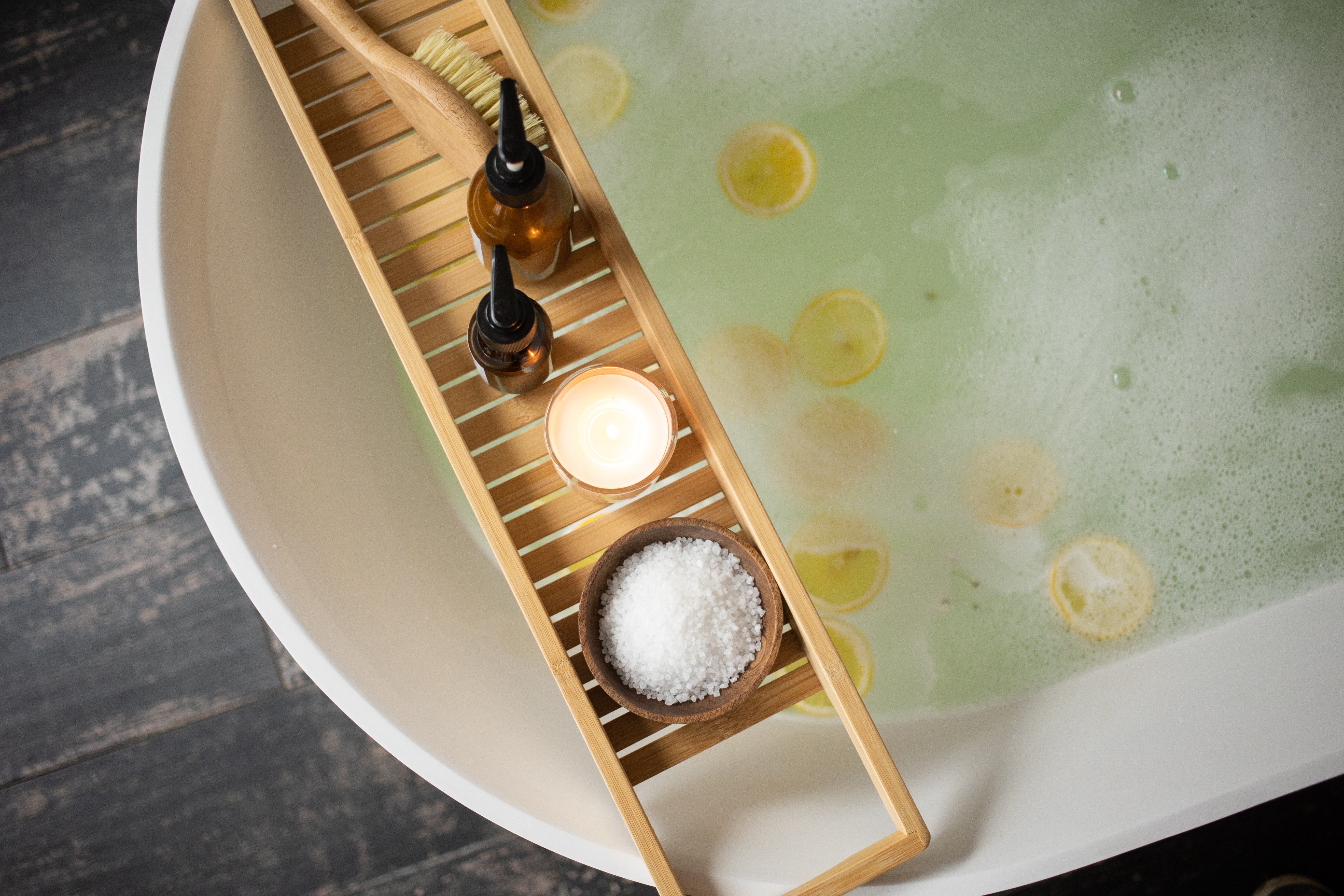 possible to make your bathroom more relaxing. Put a few plants in the bathroom (or anywhere really) if you have space - on the counter, windowsill, around the tub, or on the floor for taller plants are all great options. Lighting changes can make a bathroom feel more relaxing too. If you like to take baths, add some candles you can light when you're relaxing in the tub. Or, if the lighting in the bathroom is bright and harsh, get some bulbs that put out a more inviting light. Tired of those mismatched towels you've had since college? Look for some bigger, more plush bath towels. Or, add some mellow scents like lavender or eucalyptus – they're a great way to make your bathroom more calming and less utilitarian.
5. Take Up a New Hobby
While some hobbies are anything but relaxing, there are plenty that can be quite calming. Have you ever considered learning to knit or crochet? Quiet, repetitive hobbies like those are a great way to calm your mind and allow you to focus on the task at hand instead of any chaos that may be surrounding you. Other things like paper crafts, hand lettering, puzzles, and reading are equally relaxing. If none of that sounds like you, do some research. Websites like Pinterest have tons of suggestions for new hobbies as well as resources on how get started and what supplies you'll need to begin.
6. Play Some Ambient Music
Listening to rain and nature sounds may make you a bit sleepy, but they can be perfect aids to relaxing when it's time to do so. There are many free apps available that offer all kinds of options when it comes to relaxing sounds. Everything from nature sounds to meditations to sound healing tracks are right at your fingertips. If none of that sounds like your thing, listening to some classical or instrumental music can go a long way in changing the vibe of your home into a more tranquil one.
---
These are just a few examples of things you can do to spruce up your living space and, in turn, your mental health. Are there other things you've been thinking about doing but keep putting off? If so, try getting started on some of them. Oftentimes beginning a project is the hardest part and once you get going, you'll be glad that you did – your home and your mind will thank you in the end.