MILITARY Property Management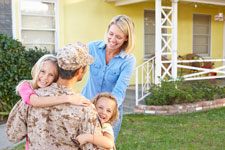 We are dedicated to helping military families with their housing needs. Regardless of whether you are a homeowner with investment property or a tenant looking for a rental home we can assist you.


Did you receive a PCS?
---
If you're a military homeowner and have received a (PCS) permanent change of station or are transferring to a new location that will take you away from the area, renting out your home could be a great way to keep your investment while letting someone else pay your mortgage.
While being a landlord isn't always easy, Sweyer Property Management makes it a priority to provide full service property management to military homeowners taking the stress out of managing your own property. We handle everything from listing your home to screening tenants to collecting rent payments and more. In other words, we do it all so you don't have to!
Why Rent Your Home?
---
By turning your home into an investment property, you could potentially earn additional income while you're furthering your military career. And with your professional rental property management team by your side, you won't have to worry about many of the typical stresses landlords face.
Rental Demand in the Area
---
With Camp Lejeune, MCAS New River and a large marine corps population, surrounding communities, such as Hampstead, Sneads Ferry and Holly Ridge, NC, have a strong demand for off base rental housing. Marine families are consistently looking for homes that are off base, but offer the convenience of location close to the Jacksonville, NC area.
We can help the market meet this demand by acting as a liaison between homeowners like you and renters in the area. Since we work with both landlords and renters, we provide a mutually beneficial service by helping homeowners like you find qualified tenants, and helping those in need of rental housing find a home that works for them.

With the majority of tenants starting their search online we get over 91,000+ visitors to our website each year looking for their next rental home. And with our easy to use Sweyer Rentals mobile app (iphone or android), we have increased our reach to even more marines and their families looking to relocate to our area.
Want to Learn More?
---
Simply give us a call at (910) 256-3031 and speak with one of our rental property management experts with Sweyer Property Management.
Inquire About Our Services
910-256-3031