About Us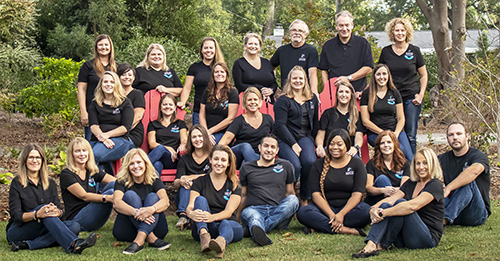 Sweyer Property Management is one of Southeastern North Carolina's largest single family residential long term rental agencies. Started in 1987, Sweyer Property Management currently manages over 1,500+ properties. The different property types include single family homes, condominiums, townhomes, patio homes, and apartment homes. Southeastern North Carolina has a variety of different living opportunities to include condominiums on the riverfront, historic downtown homes, golf course living, oceanfront homes, traditional neighborhoods, and mixed use communities, to name a few.
Sweyer Property Management is owned and operated by Dave Sweyer. Dave has led the growth of the rental business through acquisitions and a local reputation of excellent service. Sweyer Property Management is a member of the National Association of Residential Property Managers (NARPM).
We welcome the opportunity to serve as your operational partner in managing your residential investment property. Give us a call for more details at 910.256.3031.
If you are interested in becoming a part of our Sweyer Property Management team, visit our CAREER page to see what opportunities are available.
Contact us below for general questions
Or If you have property management inquiries, please click here
LEADERSHIP TEAM
---
Dave Sweyer » Owner, Broker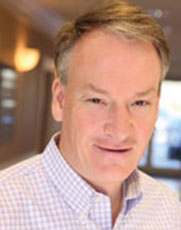 After working for GE and Allied Signal for several years, Dave Sweyer joined his family's real estate business in 1998. Not long after joining the family business, Dave embarked upon starting a long-term residential rental company with the goal of offering a high-quality, relationship-driven business to property owners in southeastern North Carolina. Today, Sweyer Property Management is the leading single-family home rental management company in the region, serving thousands of investors and tenants.
In addition to his business interests, Sweyer currently serves on the Cape Fear Academy Board of Trustees and the Corning Credit Union Board of Directors. He has also served on the Easter Seals UCP Boards for both North Carolina and Virginia as well as on the executive board for the Cape Fear Council for Boy Scouts.
Sweyer received his undergraduate degree in electrical engineering from Vanderbilt university and his MBA from Duke University.
---
Eva Farr » General Manager, Broker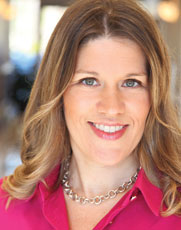 Eva Farr grew up in Northeastern, NC and attended college at East Carolina University. In 2000, she took her first multifamily management position as a Leasing Agent with an apartment community in Charleston, SC. From there she moved up to Property Manager of a 400+ unit community, which moved her to Wilmington. Eva has been a resident of Wilmington since 2002. She is married to her best friend and has a son and step-daughter that are everything! Reasons she loves property management; building the trust and relations with her owner and tenants, learning something new every day, constantly thinking and moving, the before and after of a property's condition, and lastly the satisfaction of helping customers and fixing their issues. Eva takes pride in everything she does from work to home life. She is a very nurturing and caring person with an honest and genuine personality. Eva is also a member of NARPM (National Association of Residential Property Managers).
910.239.1367
---
BUSINESS DEVELOPMENT
---
Amy Sweyer » New Client Services Director, Broker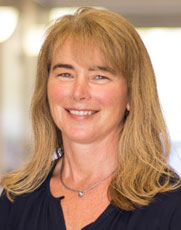 Amy was born in Portland, Oregon and graduated from Vanderbilt University with a BS, specializing in Business Personnel Management. She has lived in the Wilmington area since 1998, and brought her background in customer service and experience in marketing for nationwide accounts to Sweyer Property Management. Over the years, Amy has worked throughout various divisions in the company where she is able to share her wealth of knowledge and experience she has gained in real estate and customer service. In Amy's spare time you will find her with family, traveling and playing tennis.
910-239-1457
---
Charlotte Yow » New Client Services Specialist, Broker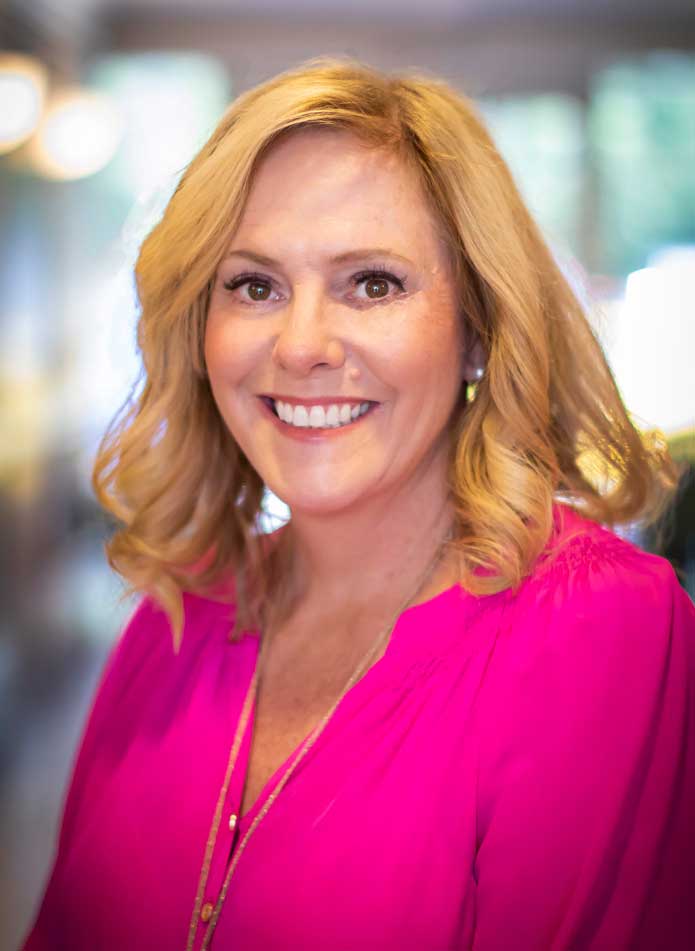 Charlotte Yow, a Wilmington native, attended Stetson University and UNC Wilmington. She began her career in property management twenty-three years ago and is a licensed real estate broker. Charlotte has been married for twenty years and has one daughter and a stepdaughter. She is the PTSO president at Hoggard High School and serves as a board member of First Fruit Ministries. She enjoys tennis, needlepoint, gardening, mah-jongg and anything at the beach. Charlotte's training in customer service enables her to truly listen to her clients and help meet their needs. She has experience in every aspect of property management and uses her comprehensive knowledge to assist her clients in managing their investment properties.
910-239-1338
---
Kara Chicorelli » New Client Services Coordinator, Broker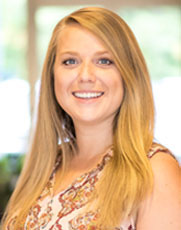 Kara was born and raised in a small town in central New York near the Catskill Mountain region, where her family still resides. She moved her a little over a year ago to be closer to the beach and away from the snow. Before Kara moved to Wilmington, she worked as a manager for a high-volume restaurant for many years. While working there, she learned the importance of providing excellent customer service. Upon living in Wilmington, she obtained her real estate license and discovered a new-found passion in the industry, which started her journey with Sweyer. In her free time, Kara enjoys traveling to new places, relaxing at the beach with friends and hiking.
910-239-1340
---
PROPERTY MANAGERS
---
Laura Wyte » Senior Property Manager, Broker, ARM Designate Through IREM, NC Notary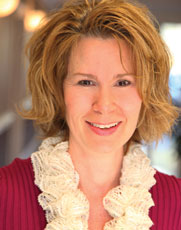 Laura is honored to be the child of parents who were in the United States Air Force. After spending her childhood traveling the country, her family relocated to the Charlotte area. Laura completed her education with degrees in Business Management/Accounting and relocated to Wilmington. She has enjoyed a successful career in real estate; having worked in all facets of property management, from on site management to corporate operational management. Laura enjoys working with both owners and tenants to provide outstanding customer service.
910-239-1360
---
Cassy Diskin » Property Manager, Broker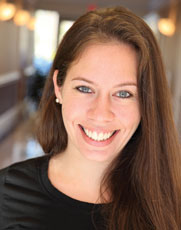 Cassy was born and raised in the small town of Swansboro, NC, before moving to Wilmington, NC. She started her career in Emerald Isle, NC where she worked for a multimillion dollar real estate company for 2.5 years. There she learned event planning, customer service, team building, property management and how to plan dream vacations for families all over the world. Since starting with Sweyer Property Management over 10 years ago she has made it a priority to work in each department so that she is well rounded when it comes to all aspects of our business, and can help in many facets. In Cassy's spare time she loves anything outdoors, her favorites are going camping, fishing, hiking, playing beach volleyball or just going to the beach to relax.
910-239-1339
---
Connie DeJeet » Property Manager, Broker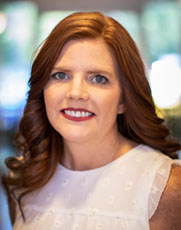 Connie was raised in Cary, NC, after relocating there from outside of Nashville, Tennessee. A graduate of Campbell University, Connie started her real estate career as an assistant to a real estate broker in Cary. Connie enjoyed the relationship-building aspect of real estate and quickly enrolled in classes to obtain her Real Estate Brokers license which she obtained in 1996. She specialized in "Dream Making" in residential sales before the salt air called Connie to Wilmington 7 years ago. After moving to the coast, Connie worked as a Vacation Rental Manager as well as a Long-term Rental Manager in the Topsail Island area. After having been exposed to the industry for the majority of her life, Connie has acquired a true passion for real estate. In focusing on Property Management, Connie believes in building lifelong relationships, constantly learning new things that will benefit her clients and always extending excellent customer service. In her free time, Connie can be found at the beach with her daughter, being a tourist around her own town or spending time with her "framily" - friends that have become family.
910-239-1334
---
Erika Hood » Property Manager, Broker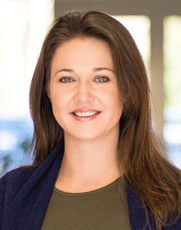 Erika, originally from Raleigh, NC moved to Wilmington in 2009 where she obtained her master's degree in Recreation and Tourism Management. Erika worked in Property Management for 3 years on Pleasure Island before joining Sweyer Property Management in December of 2017. She and her husband currently live in Hampstead with their two sweet dogs, Zoey and Moose. They gave birth to their first daughter, Lillah, in December of 2018. In Erika's spare time you can find her with her family boating, fishing, camping, hiking, and volunteering in her community. Erika believes relationships are what make life rich and finds the relationship building is her favorite aspect of property management.
910-239-1366
---
Haven Heibein » Property Manager, Broker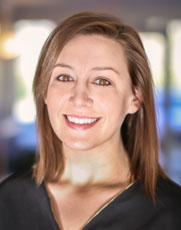 Haven is a Wilmington native who loves music and the beach. She graduated from Appalachian State University and lived in Boone for several years before relocating back home. Once she returned to Wilmington, she began her career in Property Management working in Vacation Rentals. In 2018, she made the change to Long Term Property Management and never looked back. She enjoys the longer relationship building with tenants as opposed to the quick turnaround with vacationers. Haven loves the pace, networking, and positive relationships that Property Management requires and enjoys pushing herself to be better every day. In her free time, she loves spending time with her daughter, friends, and family, traveling, and Pittsburgh Penguins hockey.
910-726-9741
---
Hahle Kirkland » Property Manager, Broker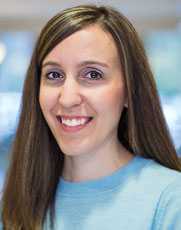 Hahle was born and raised in Wilson, NC, but also calls Riverton, NJ home too, as that is where her family currently resides. She graduated from the University of North Carolina at Chapel Hill in 2003 with a B.A. in Communication Studies and a minor in Spanish. Shortly after, Hahle began her career in the multi-family apartment industry as a Leasing Consultant for a national REIT. From there, she quickly moved up to Assistant Property Manager and finally to Property Manager, which has been her position for the last 7 years. She also became a licensed real estate broker in May of 2007. Hahle loves all aspects of property management but especially: building relationships with new people, learning new things each day and extending excellent customer service to all of her clients. Hahle relocated to the Wilmington area and has a 5 year old daughter, Morgan. She enjoys relaxing days on the beach, traveling, UNC sports and spending time with her family, which includes 2 dogs, 2 cats and 4 chickens.
910-239-1447
---
Jill Hatfield » Property Manager, Broker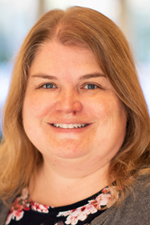 Jill was born and raised in Greensboro, NC and attended Appalachian State University before making the track to Wilmington. She has been in Wilmington since 2003 and started her career in Property Management at Bald Head Island working with multi-million dollar vacation rentals and in the Wilmington area on long-term rentals. Jill can be found playing with her three dogs, Riley, Nala and Colby, as well as relaxing at the beach, baking, traveling and practicing photography.
910-239-1344
---
Michelle McDermott » Property Manager, Broker, CAM (Certified Apartment Manager)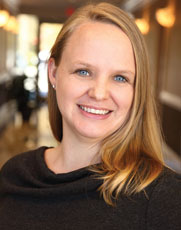 Born and raised in middle-Georgia, Michelle started her professional career in 1996. She has worked in the property management industry for single family homes as well as multi-million-dollar apartment communities. Michelle obtained her Certified Apartment Manager designation in 2008 while working in the Washington D.C. market as a Senior Community Manager for one of the Nation's top 7 REITS. Michelle and her family moved to Wilmington in 2009 and she began working with Sweyer Property Management as a District Manager for their multi-family portfolio. Michelle earned her North Carolina Broker's license in 2011. After stabilizing two apartment communities in Wilmington, Michelle broadened her duties by accepting a role as Maintenance Director for the in-house maintenance company, Coastal Maintenance Service, LLC. In 2017, Michelle transitioned back into a Property Manager role for Sweyer. Michelle currently manages single family, multi-family, and mixed-use properties for Sweyer Property Management, and she brings with her over 20 years of professional management experience and a broad understanding of investment property operations and maintenance.
910-239-1465
---
ASSISTANT PROPERTY MANAGERS
---
Marcy Jensen » Senior Assistant Property Manager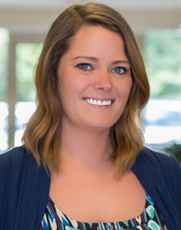 Marcy grew up in the Finger Lakes area in Upstate New York, where her family still resides. She moved to Wilmington after three years living in Rochester, New York where she worked as a Property Manager for a family owned Commercial and Residential Property Management Company. Marcy decided that Wilmington was a great place to call home again and decided to follow her ongoing interest in real estate and obtain her N.C. Real Estate License. Marcy's love of traveling and meeting new people and cultures takes her on many great adventures and in her free time you can usually find her at the beach relaxing with friends.
910-239-1500
---
Laure Cline » Assistant Property Manager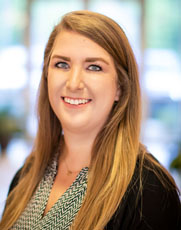 Laura was born in Durham, North Carolina and graduated from Appalachian State University with a B.A. in Political Science. After graduation she lived in Jackson, Wyoming working in resort management for several years before making the trek back home to the East Coast. Upon relocating to Wilmington, she began her career in Property Management working in Vacation Rentals, before happily starting her career with Sweyer, in Long-Term Property Management. She loves all aspects of working in customer service, especially building relationships with clients. In her free time Laura enjoys all things outdoors and exploring the beautiful Wilmington area that we are lucky to call home.
910-239-1425
---
Megan Miller » Assistant Property Manager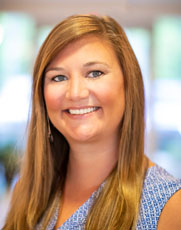 Megan was born and raised in Kinston, North Carolina. She attended East Carolina University and graduated in 2008 with a Bachelor's Degree in Business Administration. After graduating she moved to Raleigh NC and helped manage several multi-family apartment communities in the triangle area with a real estate investment firm based out of Ohio. In 2017 she married her husband Jeromy. She relocated to his hometown to help operate the family business. After Hurricane Florence, their home was flooded and they relocated to Wilmington. Megan, her husband and their fur baby, Duncan, are excited to now call Wilmington home. In her free time, she loves spending time outdoors, on the boat, in her garden, hiking or on the beach.
910-239-5968
---
ACCOUNTING
---
Debbie Marmorstein » Director of Accounting & Compliance, Broker In Charge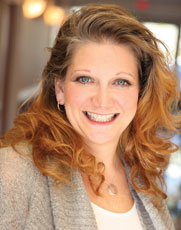 Debbie Marmorstein, originally from Pennsylvania has called Wilmington her home since 1999. She has been in real estate management since 1995. After earning her Bachelor's Degree in Pennsylvania, she moved to Charlotte, NC, and worked for a national commercial management company where she managed a variety of commercial properties from industrial complexes to high rise office buildings. In May of 2006 Debbie started working with Sweyer in the accounting department of the HOA management division, CAMS, and in 2007, moved over to Sweyer Property Management as the Accounting Manager.
910-239-1329
---
Melissa Hegarty » Assistant Accounting Manager, Broker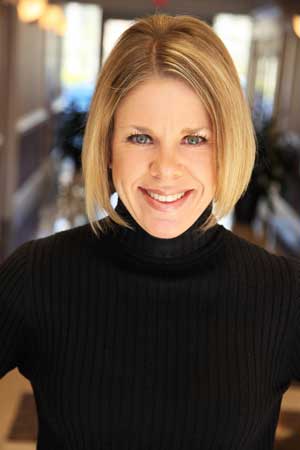 Melissa moved from the west coast at a young age to Pinehurst, NC, where her family still resides. She attended Appalachian State University where she majored in broadcast communications with a concentration in television. An internship at a local television station made her fall in love with the coast, so after four snowy winters in the mountains she was ready to make Wilmington her home. After working in the mortgage industry for several years, Melissa made the decision to leave the family business and join the Sweyer Property Management team in 2007. She received her broker's license in 2011 and enjoyed learning all aspects of the real estate industry. Melissa is a "passionate" Carolina basketball fan and currently lives in Wilmington with her husband and two miniature dachshunds.
910-239-1341
CLIENT SERVICES
---
Nancy Negri » Office Manager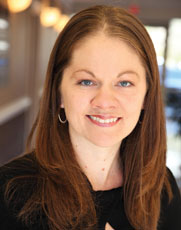 Nancy, a native of Suffolk, Virginia has truly made Wilmington home. Over the years she has held many different roles, but has found her niche with Client Services. Nancy and husband, Dan have a beautiful daughter, Mya. Nancy is a huge sports fan – more specifically she loves the Pittsburgh Steelers, Pittsburgh Penguins, Pittsburgh Pirates, and New York Yankees. Nancy loves going to the beach and spending time with her family and 2 Pomeranians, Cocoa and Hollywood.
910-239-1342
---
Veronica Brown » Front Desk Assistant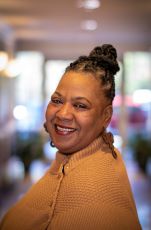 Veronica was born and raised in Columbus County, NC. She is married with one grown daughter and three beautiful grandchildren. Veronica has been with Sweyer Property Management for over 17 years. She has held many roles and worked in several departments, allowing her a bit of expertise in all aspects of our company. Veronica has finally found her niche with Client Services and offers top-notch customer service (her reviews are there to prove it!). Veronica is a mama bear everywhere and to everyone she encounters; she takes care of her husband, her children, friends and co-workers. Whenever she is needed, she is there. She is lovingly known as "Ms. V" aka "Mama V."
910-726-9575
---
Pablo Abernathy » Prospect Coordinator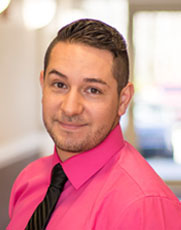 Originally from Colorado, Pablo graduated from Remington College with an Associate's Degree in Medical Assisting. After some time, he relocated to Colorado Springs, Colorado and began his career in Property Management. Pablo relocated to Wilmington, NC to continue his career in Property Management and continue to build on his knowledge of real estate. Pablo has fallen in love with the coastal lifestyle and loves to spend time with his family and dog at the local beaches.
910-239-5969
---
MAINTENANCE & INSPECTIONS
---
Paula Heath » Maintenance Coordinator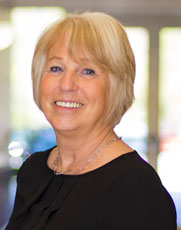 Paula was born and raised in North Western Pennsylvania and moved to Fayetteville, NC in 1991. There, she started as a part-time leasing specialist for a multi-family housing company in August 1993 and was quickly promoted to Manager in January 1994. In 1999, Paula moved to Wilmington, NC and started managing coastal properties where subsequently she gained her broker's license. Since moving to Wilmington, Paula enjoys days spent at the beach with her 4 children and 9 grandchildren.
---
Jason Black » Maintenance Technician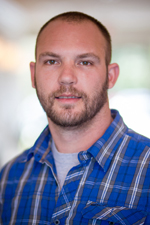 Jason was born and raised in Wilmington. After graduating high school he spent seven years remodeling homes with fire and water damage. Since he began working with Coastal Maintenance as a property inspector he has since extended his skills to include common area building maintenance and some property maintenance. Jason is married with three children. In his time away from work he can often be found spending time with family, and hanging out at the beach, camping, fishing, and other outdoor activities.
---
Taylor Nicholas » Property Inspector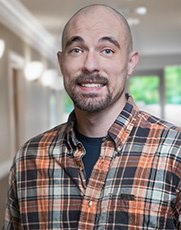 Taylor was born and raised in Greensboro, NC. After high school, Taylor jumped right into the working world as an Electrician Top Helper. His knowledge and skill level expands from electrical work to HVAC to all aspects of maintenance. This knowledge then led him into the multi-family industry working for a rental management company in Greensboro where he enjoyed the variety and the customer service level so he stuck with residential maintenance. That customer service level also led him to work in the maintenance field at a high end golf resort in Greensboro. He has always had a passion for the coast and the NC beaches, so he moved to Wilmington in June of 2020. Outside of work, you will find Taylor at the beach (of course), watching movies and documentaries, discovering new music, reading and backpacking.
---