Reviews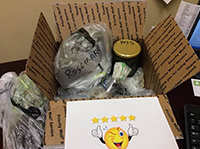 At Sweyer Property Management we put a lot of emphasis on customer service and always encourage feedback from our clients to assure you are getting the best service possible.
Take a minute to share your experience with Sweyer Property Management. We would love to hear from you.
Check out our reviews on Google and Facebook and feel free to leave your review on there too!
Read What Our Clients Have To Say:
---
I have had the best experience so far. As a perspective tenant Monikah has been extremely patient and helpful with answering all my questions along with Pablo who was very professional at giving me a great tour of one of the properties. I look forward to moving in to a Sweyer property home! Thanks guys.
- Kemia Truesdale
---
Sweyer Property Management was a pleasure to work with. Kara Chicorelli was quick to respond to all my questions and helped me through the entire process.
Denise C
---
I have been a tenant at The Park at Village Oaks in Leland for over 5 years. The office headed by Kaci has answered all my questions with courtesy and is always on the money. She is a fabulous manager, and as far as the maintenance goes, Joe has been great too. These two individuals have gone the extra yard to help my stay here be comfortable. 5 Stars

Ronald V Finnerty
---
Sweyer Property Management was a pleasure to work with. From the beginning of the rental until the end everything went well. All maintenance request were handled in a efficient and timely manner. Our property manager, Linda Hansen was great to work with and kept us informed of any information we needed.

Tracy Franklin
---
My desire was to retire in the Wilmington area and Sweyer Property Mgmt has made that possible! In a matter of just a few days I signed my new lease! I am more excited than I could ever explain but more so, I am proud of the Sweyer Team! From Pablo taking his time to show me the property and so kindly and knowledgeably answering my questions to Stacie Beasley in assisting me with gathering all my information and preparing my lease has been an amazing experience! It's all happening so fast that I can hardly catch my breath! Stacie is such a friendly, kind professional with a big heart! She has calmed my nerves about relocating and made me feel that I was very important to her. I now not only know Stacie as my Agent, but I feel Stacie is my friend and I can reach out to her anytime. Thank You Stacie, Pablo and the entire Sweyer Team!! Thank you for making my dream come true!!

Debbie Schiel
---
Good afternoon Laura, Heidi and I want to thank you for all you have done for the past 6+ years with managing the property at 6619 Alamosa Drive. You don't know how much we've appreciated having someone we could trust close by to oversee the property. We are forever grateful! Let us know if we can ever return the favor.

Scott Martin
---
We sure love it here, and we often reflect on the process of the past year...we cannot thank you enough - for all your great work. It made everything possible for us!!!
- McCoy
---
Laura-- We did receive our security deposit exactly when you said we would--thank you. I just wanted to take a minute and let you know that our renting experience with you and the owner was absolutely one of the best we have ever experienced. Norm and I have rented during moves before both in Raleigh and Charlotte, and while we still had good experiences, neither was anything like we experienced here in Wilmington. I know that we had to call for a couple of things during our 1.5 year stay. EVERYTHING was taken care of immediately. You have always been very professional and timely in your communication. I also would like you to forward this to the home owner in order to let her know how much we appreciated her working with us on different lease periods throughout our time. Transition is very difficult, but truly we appreciate everything you both did to make it easier on us. We loved the condo and had many great memories there. Again--many thanks!!
- Sheri Ashley
---
Everything you could ask for in a business. Prompt, professional, courteous, and responsive team, especially Hahle, will go out of their way to ensure that anything and everything that you need is taken care of.
- Roger G.
---
I had a maintenance request that was fulfilled in only a few hours! Professional, kind and curious. As a working mom it's always hard getting it all done, and they tended to the issue in a timely and efficient matter!
- Rene' Adams
---
Cassy was amazing! From start to finish she new exactly what i was looking for. This was my first time in this area and I will be back because of the professionalism of this office and especially Cassy. They definitely get a 5 start review from me!
- Kim Ervin
---
Laura Wyte is outstanding to work with for rental property. I have used two other companies before and NEVER got the excellent service and attention I have received from Laura and the whole team at Sweyer C21. I completely trust her to take care of my rental unit and advise me when needed. I feel like she treats my property as it were her own and that is very comforting. Laura and SC21 get a full 5 star from me! thank you for all you do.
- Angela
---
Hello. My name is Mary McFarland, and I have a property at 153 Belvedere Drive in Holly Ridge, NC. Sweyer Property Management has been managing my property for many years since I am over 8 hours away in Winchester, VA. They have done an outstanding job. I have the pleasure of working with Logan Putt and Linda Hansen now, and am very pleased with them. They keep me up to date on what is going on with my property, and screen tenants very well. I have never gone for an extended period of time without having my home rented by them, which is a blessing since I have a large mortgage in the home. I have been solicited by many other property management companies, but am very pleased with Sweyer Property Management and will continue to work with them. I give them a 5 star rating.
- Mary McFarland
---
I just wish to report that Laura Wyte has again handled my rental at Pebble Cove again timely and professionally. This is Sunday. I just sent a request to her thinking I would get a response by close of business Monday. In 5 minutes I got exactly what I wanted. This is not the first Sunday request that was handled immediately. Dave she puts up with me. As you know I stay over involved at times.

Also: Johanna is absolutely the best community manager by far we have had at Pebble Cove. That covers all 22 years. I will be happy for her when you move her up but I hate to imagine dealing again with a normal manager.

Anyway I appreciate you and your folks.
- Bob
---
5 Stars! Logan Putt was outstanding to work with. From start to finish she made the entire process completely stress free. We look forward to working with her in the future. Thank you !
-Brian H
---
I am writing to let everyone that see this review how outstanding SWEYER RENTALS and especially MS. ERICA PARKER are to work with. In the eight years with Sweyer, my property has had a 100% occupancy,. Erica has worked extra hours to insure my repairs and unit upgrades are done to a high standard. She recently accepted and signed for an 8p.m. Delivery of a refrigerator for my client and then stayed to make certain it was in working order. Dedication towards owners and tenants is equally important to Erica. I can only restate that Sweyer and particularly Ms. Erica Parker have been outstanding for the last 8 years. Great going and please keep it up!
-Thomas Grafton
---
I am going to be new to the area and am a bit overwhelmed with finding a place to rent. That is, until I spoke with Hahle! She is AMAZING! Hahle's caring demeanor and knowledge of the industry has really settled my angst about the big move. Working with her has been a pleasure! If all of your employees are like this then I will definitely recommend Sweyer to my friends and family in the future. Five Stars!
-Michael Sheeran
Logan Putt is the bomb!!! She got us into a great place in no time at all. When we purchase, I'll go through Sweyer.
- Jeremy Marshburn
---
I have been a vendor for Sweyer for over 10 years . I will have the say they are the best rental company in Wilmington. The staff is very friendly, efficient and professional. I am proud to be a part of such a great team!
- Kellie Beasley, The Cleaning Company USA!
---
I recently sold my home and was faced with the challenge of finding a rental. I contacted several rental agencies and got no response. Lucky for me I found Nancy Negri. She listened. She was very informative about the rental process and has been a pleasure to work with. Five stars to Nancy!
-Susan
---
Brooke Guyton was fantastic in helping us find a property I give her 5 stars
- Michael Hardin
---
I was in search of the perfect home to fit the needs of my family and Veronica Moore was my 1st point of contact. She was absolutely amazing! She knew right away with homes that would be suitable for us. She was very informative about the process of renting with your company and the requirements I would need to meet. Not to mention she made me feel very comfortable discussing my finances and personal information, as her demeanor and tone were very friendly, yet professional! Although I did not end up becoming a tenant, I was very pleased with the great customer service I received along with accurate and helpful information! If I ever need to rent a home in the future I will not hesitate to call again!
- Terri Shaw
---
We had just completed building a new home in Brunswick County when the market tanked and we were stuck with a condo that we had to rent because the resale market was at rock bottom. The last thing that we wanted to be was landlords, so we looked to Sweyer to manage our condo. The process was effortless, and the property has been rented by outstanding tenants over the past five years. Eve Farr has provided us with superb service, and taken care of every problem in a prompt and cost effective manner. Thank you for a job well done.
- Edward J. Tighe
---
I have had a great experience with Sweyer Property Management. I sold my home much faster than I thought so I found myself having to find something quickly for my family to rent. I searched for a few hours. Found the perfect place that day. Called Sweyer And within 48 hours I was approved and had the keys to my new home. The girls at the front office were so polite and helpful. Eva manages the property I am renting and she has been wonderful. It has been a great experience and I would highly recommend this company. They are very prompt in answering questions and helping you with anything you might need. I thought this process was going to be difficult but it was painless and very pleasant! I am 100 percent pleased and I absolutely love my new home!
- Marci Lindeen
---
We have had a great experience renting a house through Sweyer Property Management. I would consider we have had 5 star service, so far! Logan Putt was our original contact at the front, reception desk and she provided us with the key to the house. When we returned key, she answered further questions & everything has fallen into place as she had explained. She was very pleasant to work with & we would recommend others use your company.
-Sincerely, Kathy Smith
---
It was a great pleasure and experience working with Marcy Jensen. She was always there to answer my questions and made my looking and finding a rental in Wilmington a good experience it could have been a stressful time for me, but thanks to Marcy it was not. Thanks!!!
-William Wood
---
We wanted to thank Nancy Negri for being our initial contact at Sweyer Property Management and setting up the appointment for us to view the property. Nancy followed up with us numerous times and answered our questions thoroughly. We sincerely appreciate her professionalism in helping us to choose a new home through Sweyer Property Management. Thank you!
-Judy & Mike Campbell
---
Carly has made the entire process of finding the perfect rental SO much easier than I ever imagined! She set up appointments, conversed with the homeowners for me, answered all my text messages quickly. I loved that she was always available for me, even on weekends! My experience with Sweyer will definitely bring me back the next time I need them! Thanks Carly!
-Jennifer Alphin
---
Laura, I CANNOT THANK YOU ENOUGH...words just cannot convey my/our appreciation for any and all your involvement with Savannah Court.

Personally I cannot THANK YOU ENOUGH and I should have gone with my gut reaction two years ago after meeting you for the first time. However we were so frustrated with wanting to get the unit redone and no one at that time seemed to grasp the concept that we wanted a "minor" renovation lined up months prior to those tenants moving to get it going. Anyways that is in the past, some things should have been done differently in the unit, but it is what it is. I am sure you have the eye for that as well as me-HA!-but ...

Contact us if there are any Issues and well, Eating Crow ain't so bad-ha!!- when there is a Friend at the other end!
-Always, Robin
---
Carly Ezzell was a very big help in finding a home for one of the owners of my company from Ukraine. She was very patient and worked diligently to make sure everything he was looking for in house. Thank you Carly
- Michael Sawyer
---
A company is only as good as the people that work there. Sweyer Property Management has managed my rental house for over 5 years and the service has always been good. Several people at Sweyer have managed my house over the years and Hahle Maccarone is my current property manager. You guys hit a home run when you hired her. She handles any issues with speed and efficiency and is just plain friendly to talk to, even when there are problems. Her management is OUTSTANDING. Keep up the great work Hahle.
- Ken Englestad
---
Marcy was wonderful to work with. She was very responsive and always got back to me quickly with answers to any questions I had. She even emailed me back on a day she had taken off work to update me and let me know she'd be back in the office on Monday.
-Meredith Davis
---
Nancy truly went above and beyond in contacting properties that match our unique needs moving from Minnesota to Wilmington. It was a very welcoming experience and very appreciated. Keep up the great work!!:)
-Nicki K
---
Hahle, Thank you so much for your patience and assistance. Your sincere desire and concern to make sure that the property is ready really says a lot for someone I have only had the chance to speak with by phone. I must say that the newly revised video showing of the home is absolutely wonderful. You have kept your word and checked in with us weekly. Also, thank you for helping with the minor repairs. The vendor you reccommended has worked out great! My mom was pleased. We are glad to have you as our contact person/property manager. Sweyer Property's is fortunate to have you representing their company.
-Deborah
---
"Debbie, Thank you as always. You take good care of me! I appreciate it more than I can say!!!"
- Jean Fisher
---
"Thank you for sending me this information. It also gives me an opportunity to tell you the wonderful experience I am having with my property manager, Misty. I cannot say enough good things about that woman. LOVE HER.
Earlier this year, I was informed of some very upsetting news with regard to my property. When I tell you I was a wreck I was a wreck. Basically because of the uncertainty of the situation and whether or not the tenants would be able to stay. Misty kept me in the loop every step of the way and addressed this issue head on. She informed me about every possible scenario and consistently told me not to worry and that things would work out. I know I called her a lot during this time and when I did, she always made herself available even if I emailed her on the weekend and assured me not to worry and that again, things would be okay.
As it turns out, my property situation has improved greatly and I think this may have to do with Misty and the options that she presented them. I have also appreciated the fast turnaround whenever there is a problem with my house (major or minor) I am informed of it asap, the costs involved, and what my options are that will be the most cost efficient for me. Whatever the incident may be, it always gets addressed within a very timely manner. I will always be grateful to Misty and your company for managing my property in the most cost effective way."
- Shelby Collier
---
"Great maintenance staff. I asked for something to be corrected in my unit, and within a day or 2, all is well. Thanks!"
- Gary Bennett
---
"I moved to Wilmington from across the country, and I found a lovely house to rent through Sweyer. Although there are many challenges involved in moving across the country, my property manager, Cheri, has gone above and beyond to make the transition smooth. She has delivered 5 star service without question. For each thing I requested, she was responsive and quick to resolve the issues. I can't sing her praises highly enough."
- Daniel Kanso
---
"Relocating from Minneapolis to the Wilmington area provided many challenges. Thanks to the Sweyer team who made this transition a little less pain free. Allison Papandrew went above any expectations meeting me on a Sunday to ensure I had access to the property I had rented."
- Jon Kaess
---
"We rented a home with Sweyer for 5+ years. The Sweyer rental team has been outstanding! They always immediately addressed any questions, concerns or problem that we faced as renters. As a renter, I could not be more pleased with the service we had. I would recommend the Sweyer team for all any rental needs!"
- Katie Cooper
---
"I would like to take a minute to say that I've had the pleasure of having Misty Marshburn as my property manager. Whenever there is a problem with my property she provides prompt service, returns my calls asap, keeps me aprised of everything in advance. This truly makes my life easier because I live in Connecticut and trust her completely with any concerns that she may bring to my attention. I am very happy with Sweyer and Misty!"
- Shelby Collier
---
"I have been using Sweyer for my rental properties for years and couldn't be happier. They always find me the best tenants and they find them quickly."
- Allison Kroger
---
"Sweyer has managed my rental property since 2008. Misty Marshburn is our contact/manager. She is the best. Many times I've asked for her opinion and respect her advice...adore her? Yes I do! January, 2014 I asked Misty to negotiate an expensive upgrade to the property the tenants had requested. I wanted it contingent on the tenants signing their lease 3 months early. Misty "GOT IT DONE"! Before I signed with Sweyer, I tried managing the property myself. That was an expensive lesson in what NOT to do!!"
- Phyllis Brennan
---
"My husband and I have been extremely pleased having Sweyer rentals manage our rental property in Wilmington, NC. In particular, we have worked very closely with Misty Marshburn, who has extensive expertise and experience in the management of rental property. Not only is Misty extremely knowledgeable, she pays prompt attention to all of our rental property matters in a very professional, friendly and corteous manner. She has provided us with the BEST property management services we have ever had."
-Elwood and Jade Williams, Roswell, Georgia
---
"Belinda Moore did an excellent job on getting my repair processed. Got a call this morning from the appliance company and they will be coming out on Thursday morning. Belinda always handles situations with a detailed and professional manner. Sweyer is fortunate to have her representing them as a company. I rate Belinda with a 5 star!"
- Dorothy Dale
---
"I have been impressed with the professionalism of this company, and the communication with up to date information on the status of my property. Sweyer makes a concerted effort to advertise and manage the property efficiently. This is extremely comforting, since I live out of state."
- Kathy
---
"Thanks for the update. I'm fine with your actions and appreciate your efforts."
- Robert
---
"We have rented our property with Sweyer for six years now and have had a great working relationship. Eva, Nancy Negri and the entire staff have always been very professional. They have gotten good renters into our house quickly and have always kept us up to date on everything. Can't imagine dealing with any other company. They're the best!"
- Skip & Judy Jones
---
"That's good news, Eva, and quick too! Thanks for working on keeping our place rented."
-Jennifer
---
"Janelle, Many thanks for all your help in negotiating our lease renewal. We appreciated your efficiency and pleasant attitude! We would recommend you to others. Thanks for the '5 star' service."
-Nancy & John Daniels
---
"Rudi ...I want to say how much we appreciate you! You provided great attention and professionalism with your assistance in helping us acquire someone to take over the lease."
-Michele Lindsey
---
"Kay and I would like for you to know how much we appreciate your support. We really do appreciate the dedication, time and effort that you put into managing our unit."
-Mike & Kay Robertson
---
"Thank you and your colleagues at Sweyer for taking great care of us and our house."
-Danielle Fischer
---
"I found that everyone that I have talked with that works for Sweyer are friendly and business like. They all tried to help us in any way they could. I would tell anybody that is looking for a place to buy or rent to check with Sweyer first. I am a very happy client and I would always go with them to help me find another house if I needed one in the future. The ladies at Sweyer give 5+ star service."
-Diane Persiani
---
"My family and I had a great experience working with the professional team of Sweyer Rentals! They helped us find the perfect home for our family in a location that suit our needs perfectly. The quality of service provided by Ms. Nancy Negri was tops, she went out of her way to help us view homes and file the necessary paperwork on a last minute trip to Wilmington from Virginia to find a home. As a military family, who has moved over seven times in the last eighteen years, we are very familiar with rental companies and Ms. Nancy Negri and Sweyer Rentals is at the top of our list not just for the experience with the team, but also the vast inventory of homes. Without hesitation I would recommend this team of professionals to friends and family. Make them your first call!"
-Derek Burrill
---
"I am an agent and was showing properties all over the Leland area. Your team particularly Nancy Negri was very helpful! She got back to me promptly and was able to give me tons of information! Thank you again for all your help!"
- Lisa Smiraldi
---
Definitely a 5-star review! Century 21 Sweyer Rental Properties has managed the rental of my home for three years, and I cannot speak highly enough of the job they have done. Each time my property becomes available for rent, they very carefully vet the applicants to ensure to the highest degree possible that there will be no issues with late rent payments, property damage, etc. They conduct routine inspections of my property throughout the year, and send me 30+ photos of every part of my home with each inspection they conduct. They are also very, very responsive to any questions or concerns I may have, often contacting me within 24 hours to discuss. Honestly speaking, I had a great deal of anxiety about hiring a property management company due to a prior bad, not to mention expensive, experience I had with a property management company in the Washington, DC area. Upon meeting Century 21's head property manager, however, my fears were immediately put to rest. It was a relief to learn that the company's rental agents are not only property managers, but they are real estate brokers as well. This assured me that not only would the property managers take care of the day-to-day aspects of managing my property, but they also have the relevant skill set and superb knowledge of the Wilmington real estate market to properly assess the value of my property as compared to others in my area. This insures that each time my home is available for rent, I receive top dollar in terms of the amount of money that can realistically be charged for the rental. Overall, I would, with absolutely no reservations, highly recommend Century 21 Sweyer Rentals to anyone who is in need of a property management company. I have already referred the company to one friend, who is using the company to manage her two income properties. She is as pleased with them as I am.
-Christine S
---