Military Off Base Housing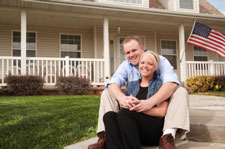 If you're in the Marine Corps and are searching for off base housing but still want the convenience of location close to the Jacksonville, NC area, Sweyer Property Management is here to help. We can help you find a home that is convenient to Camp Lejeune, MCAS New River and everything else this great area has to offer.
Why Work with Us?
---
Finding off base housing that meets all of your needs can be challenging. That's why it pays to work with the professionals at Sweyer Property Management. We can help you identify your needs, sort through the available rental properties, and act as a valuable resource for the home rental process. We have an easy to use Sweyer Mobile app (iphone or android) you can download to your phone with easy access to property searches.
Working in Your Price Range
---
Regardless of the type of rental home you are searching for, we can help you find the right home at the right price. We understand that like most military families and individuals, you have a budget to be considered. We will always respect your budget and strive to show you properties that will not only give you the space and features you need, but will be easy on your bank account.
About the Area
---
If your (PCS) permanent change of station has brought you to the beautiful coast of NC, let our team at Sweyer Property Management assist you in finding an equally beautiful rental home.
We service the areas of Hampstead, Holly Ridge and Sneads Ferry, NC which are within close proximity to Jacksonville, NC and boast easy access to the Intracoastal Waterway, marine bases, nearby beaches, quaint little historic towns and much more. Those looking for excitement will appreciate a quick trip to Wilmington's nightlife, while those that are more laid back will love the quiet little towns of Piney Green and Hubert. Love seafood? Sneads Ferry (home of the Shrimp Festival) could be the place for you! Transferring to a new location in Hampstead or Holly Ridge? These beautiful communities are growing fast and offer all the conveniences and amenities you could ask for.
No matter what your tastes and lifestyle may be, you're sure to enjoy living off base in this fun and friendly coastal region. Let us help you take the next step by calling our office at (910) 256-3031.
If you still need to submit a maintenance request after reading through the FAQs, please do this through your Maintenance Portal below.
We have updated our system in order to make submitting maintenance requests easier for our tenants. With this update, you will need to create a new login.
Sign in Now OR Create New Account