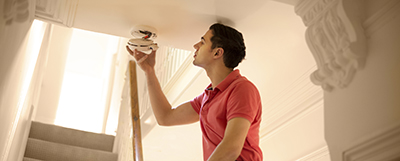 Our homes, whether they are our primary residences or investment properties, are some of our most important assets. For this reason, it is crucial to keep our properties well-maintained throughout the year. Below we have compiled a list of 10 quick fixes you can make to your personal home and your rental properties to ensure they remain in the best condition possible.
10 YEARLY QUICK FIXES FOR YOUR PROPERTY
1) Check for loose or leaky gutters and remove leaves and debris
2) Look over your sink, shower and bath for any caulking needs (deterioration, holes, mildew)
3) Look for loose outlet covers, receptacles, and loose boxes throughout house (Turn off power if you need to refasten any of them)
4) Replace the batteries in your smoke and CO detectors
5) Clean out the lint in your dryer
6) Have a professional come and tune up your heating/cooling systems
7) If gap around doors or windows is wider than a nickel, you will need to reapply exterior caulk
8) Vacuum the condenser coils at the back of your fridge
9) Inspect your roof for damage. Pay close attention to shingles that surround skylights, vents, and chimneys, which are more prone to leak.
10) Have the fireplace chimney inspected and cleaned
If you have any questions or would like more information on how to keep your rental property maintained throughout the year, contact Sweyer Property Management. We have a number of preferred vendors we can recommend to help you with numerous projects for your property.