OUR TRUSTED VENDORS you can count on!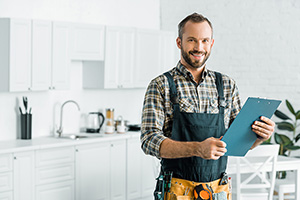 When you have an investment property, it's important to know you have the most reliable and experienced professionals available to maintain the home when you need it. That's why we only work with vendors that have a proven record of success within their field. When we send our trusted vendors to your home, you will be given the type of service and quality of work we feel confident in recommending.
ELECTRICAL
Kilowatt Electrical Services is a veteran owned small business that has operated in the Wilmington area for over 20 years. Kilowatt only uses NC Unlimited Licensed Electricians for service calls and provides 24/7 emergency service. Their experience specializing in electrical service work and troubleshooting allows them to combine creative and cost-effective problem solving with technical know-how to get the job done quickly.
HOUSE CLEANING
The Cleaning Company USA Inc. has provided rental house cleaning since 1993. In 2017, The Cleaning Company expanded into general maintenance and painting, offering a one-stop solution and full turnkey service. Their core values are customer service, integrity, and quality workmanship. They take pride in the family atmosphere they have within their company. Their goal every day is to stay consistent and maintain the highest level of customer satisfaction available.
PLUMBING
Page's Plumbing is a locally owned residential and commercial NC State Licensed plumbing company, employing four technicians. Page's Plumbing has been in business for over 30 years serving the greater Wilmington area, and offers 24/7 emergency service for Sweyer Property Management. Their ability to quickly respond to service calls when dispatched helps prevent property damage and/or increased utility bills, saving owners and tenants money. Page's Plumbing is licensed and insured, and warranties all work for one year.
CARPET CLEANING
TruClean Carpet & Upholstery Cleaning has served the Wilmington area since 1994. Their experienced cleaning technicians are certified with the prestigious Institute of Inspection, Cleaning and Restoration Certification (IICRC) and the International Carpet & Rug Institute (CRI). TruClean has the most advanced state of the art equipment and uses cleaning techniques that provide maximum spot and soil removal. As one of the most referred carpet cleaning companies in the area, by choosing TruClean you can rely on consistent, quality workmanship conducted with pride and care.
HVAC
HVAC StarPlus is a full-service, family owned, and operated HVAC contractor located in Wilmington, NC. They specialize in residential and light commercial service, sales and installation of HVAC equipment. They have 35+ years of experience with a primary focus on being the best "service provider" in the market and industry. They offer 24/7 emergency services for Sweyer Property Management with an expert team fully staffed to handle any situation that may arise with most types of HVAC systems and all brands.
GENERAL MAINTENANCE
Coastal Maintenance Service is our in-house maintenance company. Our technicians have over 30 years combined experience in general property maintenance including repairs, move-out inspections, and property reviews. Coastal Maintenance can offer a wide-variety of services, which include drywall repairs, painting, and general maintenance.